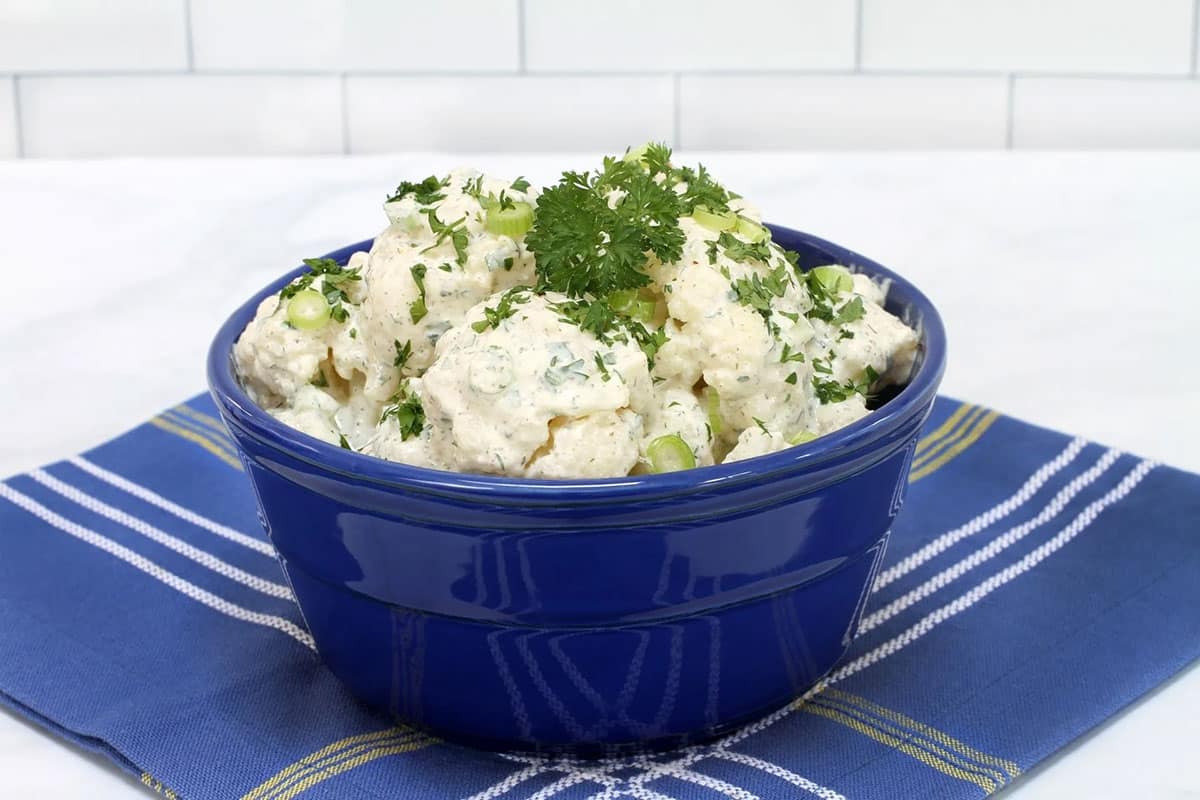 A Perfect recipe for a warm weather picnic
Cauliflower has quite an impressive nutrition profile. Mainly, it is low in sugar and sodium, and packed with antioxidants.
It is high in fiber and B vitamins and makes a great substitute for potato in this traditional picnic favorite.
1
head cauliflower, cut in florets
1
tbsp
fresh dill, finely chopped
2
tbsp
red onion, finely chopped [swap for shallots for a milder taste]
4
baby dill pickles, chopped
4
tbsp
plain greek yogurt, 2%
1
tbsp
extra virgin olive oil
1
tbsp
apple cider vinegar
1
tbsp
fresh chives, chopped
red pepper flakes [optional], to taste
Swaps and Additions:
Add cherry tomatoes, halved, for sweetness and a great source of Vitamin A,C,E
Add 1/2 chopped bell pepper, yellow or red, for crunch and added fiber
Swap dill for freshly chopped parsley
Add 1-2 hard boiled egg, chopped, as a source of lean protein
1
Cut the cauliflower into florets, place the florets in a steamer, and steam them for 7 to 8 minutes, until the cauliflower is softened but still retains some texture.
2
Remove the cauliflower and allow it to cool completely.
3
In a separate bowl, combine together the yogurt, lemon, mustard, fresh dill, chives, vinegar, oil and red onion.
4
Add that mixture to the cauliflower and mix everything thoroughly.
5
Add the remaining ingredients to the bowl. Gently mix everything together. Top with additional herbs if desired.
6
Serve your cauliflower "potato" salad preferably chilled